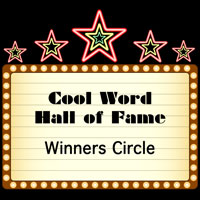 You voted for them, now here they are – the latest words inducted into the Cool Word Hall of Fame!
2013
January – Armadillo: This is a really fun word to say, and the animal it describes is kind of cute! (nominated by alyssa058)
February – Atrocious: It feels so good to say it, lays very well in the mouth. It also seems like a very fancy word, & we all know how cool fancy words are:) (nominated by WordNerd)
March – Autarky: It is awesome. (nominated by rosebuds 123)
April – Abstruse: Because it can be widely used in a stylistic manner. (nominated by rekharao84)
May – Lickety-split: I think it's cool because I always thought it was a fake word until I searched the word and found out it was a real word that meant as fast as possible and that is a cool word. (nominated by Y_lime)
And if you have a favorite word, or one that you think is really cool, nominate it here!